One way or the other, fashion is about to change, just because it's paused trend for almost two years now. So I'm not surprised to see some interesting experiments in clothing design. Today is about what's going on with pants – high waists, low waists, flares, skinnies – we've got options across the board right now. My advice? Choose what looks good on you, not what's being sold to you as "on trend." I thought I'd share a few of my finds to see what you all think.
I actually kind of like this side offering by Lane Bryant – the high waist takes some getting used to, but I think the belt adds a flattering detail that makes it workable. While the right blouse to go with these pants may take a bit of work, it's still a blessed relief from low-waist pant styles that made every shirt a belly shirt by default. Especially since tunics just don't work on every plus size body and should not be the fallback solution to bad pant designs.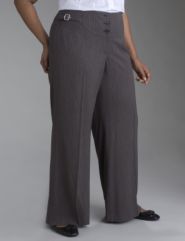 While the high-waist dress pant (also by LB) isn't quite as appealing in terms of design freshness, it's still pretty decent and I can see this working well on pear and hourglass figures.
I'm of mixed mind about plaids – I don't think they look particularly good on anyone. But with the wave of Mad Men inspired styles coinciding with fall, I may just have to live with them. However, I would like to suggest against pairing them with penny loafers unless you're aiming for head-to-toe vintage.
The split waist herringbone is a good classic fallback – I still have a pair from some three years ago that are serving me just fine when I need a professional look.
I also like these for their simple, direct A-line – they go well with work pumps, but because of the flared leg you do pretty much have to wear something with a heel unless you're unusually tall.
While these pants are a bit more toned down, I suspect they may run small.  I've received variable reports about sizing and quality in Newport News clothing. I have to admit, though, the pics always look tempting – on the very thin models…
I'm probably most inclined towards the flare legs, myself – I may have been skeptical at their introduction at the turn of the century, but now that I've had a chance to compare them to plus size, they definitely win!